| | |
| --- | --- |
| Posted on December 21, 2015 at 10:50 AM | |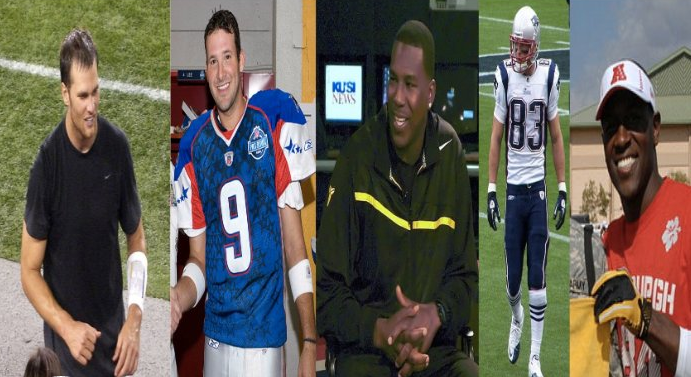 Every year the National Football League (NFL) stages an event where all 32 NFL teams get a shot at hiring the pool of college players coming out at that year. Every year, top consulting, banking and other firms go to top MBA schools at the same time to recruit from the same pool of students. Being a fan of the first and a veteran of the second, I see surprising similarities between the two annual events.
Here are 5 NFL draft stories that MBA recruiters can learn lessons from.
1. Tom Brady - 199th pick in 2000 draft, $162 million career earnings to date - One of the best players ever to play the game almost didn't get picked by anyone before the Patriots got him in the 6th round. Some of the quarterbacks picked before Brady that year include Spurgeon Wynn, Tee Martin, Chris Redman, and Giovanni Carmazzi.
Recruiters over-valued the importance of Brady's poor performance in standardized tests like the 40-yard dash at the NFL combine, the equivalent of the job interview.
Recruiters under-valued the intangible markers of his competitiveness and winning-mentality on his resume (e.g., member of National Champion Michigan team, set Michigan records for most pass attempts and completions in a season, All-Big Ten honorable mention both seasons and team captain his senior year.)
Lesson for MBA resume screeners: If an applicant has been highly successful at a top MBA school, don't refuse her because her high school SAT score was embarrassingly low. Her demonstrated ability to succeed despite that is even more impressive in many ways.
2. Tony Romo – undrafted in 2003, $22 million earnings in 2015 – The franchise quarterback for Dallas was not drafted by anyone when he came out of college, meaning 200+ players were picked but he wasn't.
Recruiters over-valued the fact that he didn't play for a school in the top class of the college ranks.
Recruiters under-valued the intangible markers on his resume suggesting he was a special player (e.g., 3x conference Player of the Year, 3x All-American, Walter Payton Award winner for top Division 1AA player, won a conference championship.)
Lesson for MBA resume screeners: If you are going to be recruiting at Harvard and an impressive resume and cover letter comes in from a student who is a living legend at the community college around the corner, invite him to the interview.
3. Antonio Gates – un-drafted in 2003, $57 million career earnings – One of the most successful tight ends ever to play, Gates has helped redefine the position as a premier touchdown receiver.
Recruiters over-valued the fact that he chose a basketball scholarship from a smaller college (Kent State) over a football scholarship from a bigger school (Michigan State.) Despite choosing to pursue football after college, recruiters took his college choice as a sign he wasn't serious about football.
Recruiters under-valued the ability of a highly-talented general athlete to learn a specific football job. Gates didn't get credit for the fact he probably could have been a college football star if he wanted to be since he was good enough to get a scholarship from a powerhouse program like Michigan State. They also discounted the intangible marker of success on his college resume (e.g., he helped get Kent State to the Elite Eight in NCAA tournament as a 10th seed.)
Lesson for MBA recruiters: If a student from the university's medical school who has aced the GMAT asks if they can come interview for a business job when you are on campus, say yes.
4. Wes Welker - un-drafted in 2004 draft, $40 million career NFL earnings – Despite impressive college career statistics, Welker wasn't even invited to the NFL combine to try out for NFL teams.
Recruiters over-valued his small stature and his unimpressive speed in the all important standardized test - the 40-yard dash.
Recruiters under-valued the success markers on his resume (e.g., All State Player of the Year in high school, tied the college career record for touchdowns returning punts, won the award for best special teams player in college football.) They also didn't value the cross-skill ability he demonstrated by being a talented kicker and punter.
Lessons for MBA recruiters: If an applicant doesn't fit the traditional profile of a consultant but has demonstrated an ability to be a winner and "jack-of-all trades" in many valuable roles, figure out some job you can offer him to get him on your team so you can see what he can do (and keep him away from your competitors.)
5. Antonio Brown – 195th pick in 2010 draft, $25.9 million career earnings to date - The Steelers wide receiver's prodigious scoring makes him one of the top players picked in most fantasy football drafts, but he almost wasn't picked at all in his draft.
Recruiters over-valued his lack of experience playing for a top college team.
Recruiters under-valued the fact that he was talented enough at football to earn a scholarship offer from a major program (Florida State.) He played at a smaller school (Central Michigan) because it was a better fit for him to get on track off the football field.
Lesson for MBA recruiters: Don't over-penalize MBAs for mistakes they may have made years before as teenagers if they have demonstrated they have gotten on track since. They may have already paid a steep price for their teenage mistakes by not getting into the best schools. You may be able to get an all-star in waiting at a deeply discount price if you are willing to invest more than just money in their success.
Categories: People Leadership, Job Interviews