| | |
| --- | --- |
| Posted on July 16, 2014 at 12:20 AM | |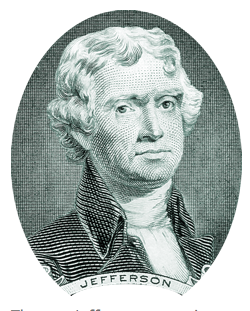 Because Thomas Jefferson had such an immense impact on US history, he has been immortalized in many ways ranging from the Jefferson Memorial in Washington DC to being on the $2 bill to having a state capital city named after him. Interestingly enough, however, he was much more modest about his own achievements when he chose what to have inscribed on his tombstone. His self-written epitaph reads "Here was buried Thomas Jefferson Author of the Declaration of American Independence – of the Statute of Virginia for religious freedom and – FATHER of the University of Virginia."
While all great accomplishments, what stands out is what he chose to leave out. He makes no mention of the other major government positions he held: third President of the United States, first Secretary of State of the United States, second Vice President of the United States, Governor of Virginia. Maybe he viewed big jobs and fancy titles and just a means to an end, not an end themselves. He makes no mention of major accomplishments of his presidency, most notably the Louisiana Purchase. Maybe he viewed that as unfinished work.
If you had to think about just three things you wanted to be remembered for in your career, what would you like those three things to be, when your career is all done? What would be the results and lasting impact you would leave, not just the fancy titles that you would hope to have next to your name?
By visualizing what you would like to achieve, you can more clearly plan how to do things every day to get you on your way to achieve those goals.
Categories: Coaching, People Leadership