| | |
| --- | --- |
| Posted on July 5, 2017 at 12:45 PM | |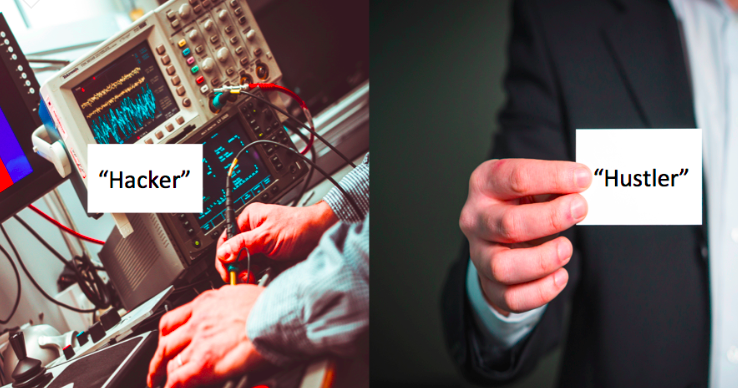 The "hacker-hustler" team is a common recipe for co-founders of successful new businesses. The "hacker" is the partner who has the technical skills to build innovative products or services. The "hustler" is the partner who has the marketing and other business skills to grow a valuable enterprise around those technical innovations. Based on market capitalization, here are the five most successful "hacker-hustler" co-founder teams in history.
 
5) Henry Wells and William G. Fargo (Wells Fargo) – In 1845, Henry Wells and William G. Fargo partnered to form a express freight company that would become American Express. In 1852, the two partnered again to form Wells Fargo. Wells Fargo would launch innovative banking products to finance the booming gold rush economy in California. Both men started their careers as freight agents, so they both had hands-on logistics expertise that would serve as the "hacker" part of this equation. Fargo may have been more of the "hustler," as shown by his entry into politics as the mayor of Buffalo, NY later in his career. Over the next two centuries, the Wells Fargo partnership grew to be the 10th most valuable public company in the first quarter of 2017, when its market capitalization reached $278 billion.
 
4) Robert Wood Johnson, James Wood Johnson, and Edward Mead Johnson (Johnson & Johnson) – Robert Wood Johnson was inspired by a speech at the 1876 World's Fair about the need for sterilization in medicine. In 1886, Robert joined the firm his brothers James and Edward had already created – Johnson & Johnson – to produce a line of sterilized surgical dressings. Robert and James teamed to play the "hacker" role in the partnership. Robert was trained as an apprentice at an apothecary and used that experience to develop the products. James was an engineer who designed innovative machines to use in the business. Edward was more of the "hustler" in the relationship, as he was trained as a lawyer and his other talents revolved around advertising. (Edward would spin off to launch his own business in 1897, thus getting "Johnson & Johnson" back to a duo of brothers.) Johnson & Johnson has grown to become the 6th most valuable public company in the world, with its market capitalization reaching $357 billion in 2017.
 
3) Larry Page and Sergey Brin (Alphabet/Google) – While a graduate student at Stanford University, Larry Page came up with a thesis that the best way to rank webpages in internet searches was to assess the number and quality of the sites that link to it. Basically, he was applying the concept of the importance of citations in academic papers to the world wide web. His partnered with friend and fellow classmate Sergey Brin to turn that thesis into a working website, and eventually a business. Both Page and Brin brought the technical skills to the partnership, so it is hard to say who was more of the hacker and who was more of the hustler. Either way, they combined to do both hacking and hustling quite well, as Alphabet's market capitalization rose to #2 in the world by reaching $628 billion in the second quarter of 2017.
 
2) Steve Jobs and Steve Wozniak (Apple) – The two Steves working in a garage to build the first Apple computers is perhaps the purest, most iconic example of a successful hacker-hustler team. Wozniak (Woz) brought the technical skill and Jobs brought the business skills. They needed each other. They completed each other. The rest of the story is well-known. Apple is now the most valuable public company in the world, reaching a market capitalization of $753 billion in 2017.
 
1) Bill Gates and Paul Allen (Microsoft) – When Bill Gates and Paul Allen founded Microsoft together in 1975, it was the second company the two friends, aged 19 and 22, respectively, had launched together. (The first one was to build a machine to count automobile traffic on roads.) The two met in their school's computer club, so they both had technical skills. Being three years older, Allen had more life and business experience, probably making him more of the "hustler" in the relationship. When Microsoft got its big break in 1980 to supply the disk operating system (DOS) to IBM, for example, Allen led the deal to buy and repackage an existing system from another developer. Allen also came up with the name Microsoft when they incorporated. However they divided up the hacking and hustling tasks, it obviously worked well. Microsoft's market capitalization hit $618 billion in 1999, which was worth over $1 trillion in today's dollars on an inflation adjusted basis, the highest market capitalization ever. With a market capitalization of $528 billion in 2017, Microsoft still stands as #3 on the list of most valuable public companies today.
 
Sources: Wikipedia.org and http://www.jnj.com
 
© Copyright Victor Prince, All Rights Reserved.
 
Categories: Organizational Design, People Leadership, Operational Excellence